Source: http://www.beginningfarmers.org/26322-2/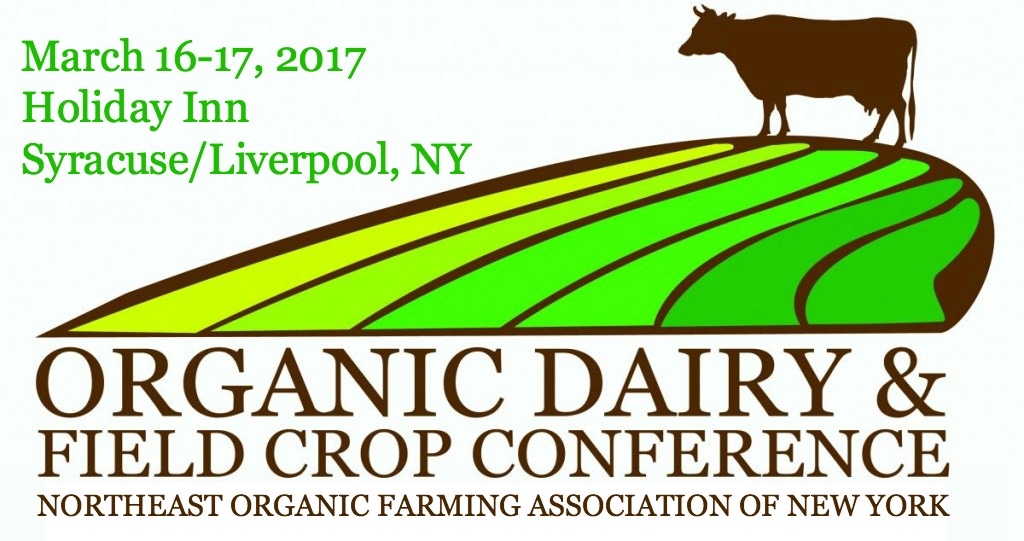 SIXTH NOFA-NY ORGANIC DAIRY and FIELD CROP CONFERENCE EXPANDS TO  TWO DAYS, MARCH 16-17 
Conference welcomes veteran farmers, beginning farmers, and those interested in transitioning to organic management 
Farmington, NY—The Northeast Organic Farming Association of New York (NOFA-NY) is expanding its sixth annual Organic Dairy & Field Crop Conference to two days: Thursday and Friday March 16-17, with Friday's focus on half-day intensive programs. The conference takes place at the Holiday Inn Syracuse/Liverpool, NY, 441 Electronics Parkway.
Keynote Speaker Jack Lazor, co-founder of Butterworks Farm, leads off the conference with his inspirational address:Building Butterworks Farm: Adapting to Changing Times. Lazor has been a pioneer in alternative management practices on his dairy, moving from small-scale production to a complete grass-fed management. Jack also will share his insights into carbon sequestration and the future of Butterworks Farm.
In addition, the conference will honor NOFA-NY's 2017 Farmers of the Year, Michael & Gayle Thorpe, and the NOFA-NY Certified Organic, LLC staff will present on Transitioning to Organic Dairy Management. The staff will be available throughout the conference to answer questions on this important topic.
"NOFA-NY has been working to expand the Organic Dairy and Field Crop Conference," noted NOFA-NY Education Team Director Bethany Wallis. "We are excited this year to provide even more programming for farmers, thanks to our great lineup of presenters. We welcome anyone interested in organic management; this is the place to learn. Our half-day intensive workshops cover all the basics. And the fantastic gathering of experienced farmers and industry professionals are more than willing to share their experience and expertise."
Complete conference schedule and details are available on the website: http://bit.ly/2k9sAOU.
Thursday workshops include topics such as Buckwheat, On-farm Energy Audits, NY Organic Dairy Program Updates, Solutions to Challenges of Grass-fed Dairy, Resilient Farming in a Changing Climate, Small Scale Processing, Holistic Look at Minerals and Livestock Health, Organic Dairy Cull Cow Market, Calf Raising/Parasite Control, Strategies for Success with Organic Weed Management, and Building an Efficient and Profitable Herd: Genetics for Grass Based Dairy.
Friday, March 17 is focused on two half-day intensive workshops: Transitioning to Organic Dairy Management, and the Art and Science of Grazing.  Participants will also learn about Farming with a Future, and Industrial Hemp: the Next Crop in New York's Future.
The pre-registration deadline for the Organic Dairy and Field Crop Conference is March 7 but walk-ins are welcome. To register, call 585-271-1979 x1, online at:http://bit.ly/2ksFwBV or send a check to NOFA-NY, 1423 Hathaway Drive, Farmington, NY 14425.  Full conference registration is $120, and includes lunch, dinner, and brunch. Thursday only is $65.00 (includes lunch); Friday only is $40.00 (includes brunch); Thursday dinner is $15.00. Children 12 and under are free. NOFA-NY members receive a 10% discount on registration costs (dinner excluded).
NOFA-NY is also looking for Organic Dairy and Field Crop Conference food donations, the wholesale value of which can be applied toward conference registration or taken as a tax-deductible donation. Food donors are listed in the conference program and in the banquet hall.  To donate food, contact Paul Loomis at food@nofany.org or call (585) 271-1979 x515.
NOFA-NY is a member-based, non-profit educational organization of farmers, gardeners, and consumers creating a sustainable regional food system that is ecologically sound and economically viable. Through demonstration and education, we promote land stewardship, organic food production, and local marketing. NOFA-NY brings consumer and farmer closer together to make high quality food available to all people.
The post NOFA Organic Dairy and Field Crop Conference appeared first on Beginning Farmers.
To be updated with the latest information in the livestock farming industry to can check out our raising livestock latest news. On the other hand in case you are new to raising livestock and would like to begin professional livestock rearing today get a copy of our Profitable Livestock ebook.
When animals are kept in the pasture-based system they are allowed to graze openly and eat nutritious green grass and other green plants that are easily digested by their bodies. The livestock welfare is greatly increased when they graze on green pasture.
Sustainable livestock raising also helps in minimizing damage to the environment and the produces such as meat, eggs and milk is more nutritious and taste better then food from factory farms.
Livestock Health Benefits:
Livestock that are raised in limited factory farms have less quality life than those raised on pasture. Animals when raised on pasture can move around and live a natural life where else in factory farms the livestock are all crowded in confined facilities. These facilities have no sunlight or fresh air allowing bacteria to develope and affect the animals. This then contributes to the livestock being given antibiotics which is not good for the livestock.
Since a great deal of livestock eat grass, grazing them on pasture has a number of benefits. Some of the benefits would be the livestock are able to produce drool which is good for neutralizing acids that is in their digestive tract. As grain fed livestock produce less saliva they often suffer from dehydration, intestine damage and even death.
Human Being Health Benefits:
Livestock raised on pasture produce more nutritious eggs, meat, milk which is ideal for consumers than livestock raised on grains. Adding to that, pasture raised foods have a healthier balance of omega-3 and omega-6 fats than your conventional foods. Their vitamin levels are higher as well.
It's no doubt that sustainable livestock farming is the way to go if you would like to be a successful livestock farmer. The livestock are reared in a healthy way and the produce is healthy for us humans.