Source: http://www.beginningfarmers.org/26336-2/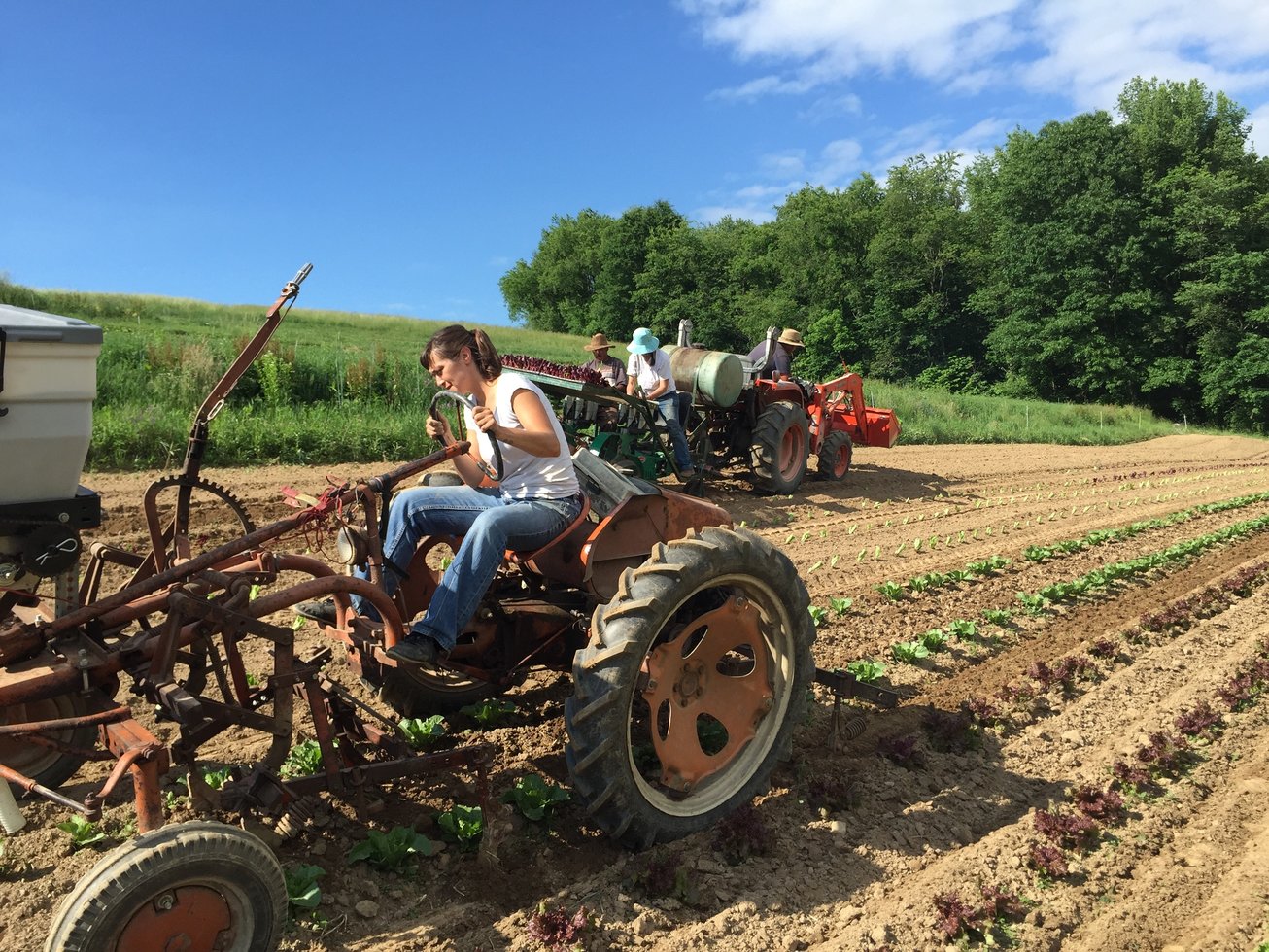 We are seeking a Organic Farm Operations Manager with minimum of 3 years' experience on mid-sized organic vegetable and fruit farm near Pittsburgh, Pennsylvania – 2017.
About the Farm:
We are attempting a generational transfer of one of the original and leading certified organic farms in the East.  It's a mature and stable business; profitable, and diverse.  For 40 years we have been pioneers not only in organic vegetable production but also a small disease resistant apple orchard.  Our large CSA in 1993 pioneered the neighborhood delivery so common now.
This could be called a "latchkey operation" in a "growth industry", but every farm is unique with a myriad of moving parts.  We have an existing well developed farm and market; there's lots of directions the future could take.  Next generation family member plans on maintaining farm, but has interests in the arts as well and would entertain notion of full throated cooperative management as well as development of an updated vision for the farm.
Stable well-seasoned Hispanic crew with years of familiarity with our farm will continue to provide efficient field help and supervision.
Diversity is our strong suit– veggies/fruit, country/city, Anglo/Hispanic, and mature/innovative.   We have seasons, year round rainfall, nearby ski resorts, and the great cultural venues of Pittsburgh.
Organic Farm Operations Manager Job Overview: Though this is a managerial position, with our small crew there will be multiple hats to wear including working at tasks while managing.  This is especially true initially while learning the scope and detail of existing practices.
Living: Possibility of housing 10 min. away in a traditional walkable small town—Zelienople; Two blocks to elementary school in excellent school district.  Farm is 20 min. from very affordable-to-buy housing in older industrial Ohio River valley. We're rural, but uniquely located well within an hour of Pittsburgh, PA, with great cultural venues, higher educational institutions, museums, medical care, innovation in eating and technology, and major sports teams. Fresh food is provided in-season.
Start: Ideally, Feb. 2017. Interviews to begin January until the ideal candidate has been identified. The Farm Operations Manager position is a unique opportunity for an individual with a calling to mid scale organic produce production.
Primary Supervisory Responsibilities of the Organic Farm Operations Manager:
Soil Building/maintenance
–Soil Testing
–Fertility Program
–Cover & Soil Improvement Crops
–Plan & Procure Amendments
Crop Planning
–Variety Selection
–Quantities and Timing
–Ordering Supplies
Packing House Supervision
–Washing
–Post Harvest handling
–Inventory mgmt.
— Sanitation
Produce/CSA Delivery
–insure CSA's and other products depart the farm expeditiously and arrive at destination in good condition
— conduct truck and equipment maintenance and repair
Cooperatively Manage with Field Manager
Crop Production
–Field Prep: tillage, fitting
–Field Planting: seeding, transplanting; manage and implement planting schedules
–Weed and Disease Mgmt
–Harvest
–maintain field records
–greenhouse and high tunnel production
Qualifications & Experience:
– good driving record
– supervisory experience
– experience operating farm equipment: tractors, plow, tiller, mulch layer, sprayer, cultivators, planters, mower.
– excellent understanding of an organic farm operation including certification
-commitment to organic, natural, sustainable, and organic principles
Capabilities:
– good written and oral communication skill
– physically fit with high endurance; hi energy and enthusiasm
– ability to work long hours under extreme pressure and conditions
– ability to manage multiple tasks at once
– ability to adapt to changing situations
– proven organizational skills
– facility using MS-Office esp. Excel sheets
– ability to follow detailed direction
– attention to detail
Salaried full time position. Compensation commensurate with experience. Bonus if goals are met.
Interested candidates for the Organic Farm Operations Manager Position should email a letter of interest, a resume, and complete application from our website.  Send to mariakretschmann@gmail.com  or don@kretschmannfarm.com
To learn more about our farm or the Organic Farm Operations Manager Position, visit  www.kretschmannfarm.com   Call 585-749-8485 or 724-452-7189 with further questions.
Other postitions available:
We are seeking CSA Crew Members for the 2017 season at Kretschmann Farm.
Farm Description 
For 40 years we've had as our goal to provide local consumers with the most nutritious food possible while respecting our environment. We were pioneers in organic vegetable production as well as maintaining a small organic apple orchard of disease resistant trees. Our large CSA was one of the very first with neighborhood delivery.  The farm is a mature, stable, and profitable business. We are uniquely situated in the countryside, yet well within an hour of Pittsburgh, PA, with great cultural venues, educational institutions, museums, and innovation in the food movement. We have a stable professional multi-national crew with great work ethic and sense of humor.  We try to utilize and allow the talent which comes our way to blossom.
Job Description
Employees participate in a wide variety of tasks in production, sales, and delivery of organic vegetables and fruit. This includes greenhouse, field, and orchard work—from seed to harvest.
Commitment to full time work schedule for the farm season April-November.  Typical hours are 7:30-5:00 with a half hour lunch break.
Starting wage: $12.50/hr. plus .75/hr. bonus for all hours worked if the season is completed.
Work includes planting, weeding, harvesting, washing, packing, and delivering organic produce.  We've got a full complement of machinery but there is still much work done by hand.
Springtime can be in the greenhouse or tilling, fitting, planting, and tending fields.  June-November we start our regular CSA deliveries 4 days per week.  Typical days then would include picking, washing and packing as well as delivery of the CSA boxes. Winter finds us heavily involved in planning, pruning the orchard, as well as a reduced number of winter CSA boxes.
Maintaining hi-tunnels and greenhouse is part of the fall through late spring routine.
We are happy to share our 40 years of experience successfully growing organic vegetables and fruit.
We say that the farmers always eat first–employees have access to most of the produce we raise.
Housing not provided, but we're 10 min. from a very traditional walkable little town—Zelienople;  20 min. from very affordable-to-buy housing in older industrial Ohio River valley, or  just 45 min. from Pittsburgh's many and varied neighborhoods.
What we expect from Employees
It is important that employees arrive on time and ready to work each morning.  We mostly work in groups and a late arrival holds up everyone.
Reliable and timely completion of independent work.
A good work ethic.  The work is hard physical work.  We value employees who are fit and can remain motivated and hardworking throughout the day.  It makes the day go quickly.
An ability to work in groups as well as independently.  Most jobs are with a partner or group, but it's important to be able to work conscientiously and efficiently independently.
An appreciation for efficiency.  We always try to get jobs done as easily and quickly as possible while maintaining quality. We will demonstrate what we feel are the best methods for doing this.  We expect employees to follow these instructions.  Once our method is learned, of course we are open for suggestions for how we can improve.
Orderliness and cleanliness
Ability to work in all weather conditions—hot, cold, wet, dry.  We provide some raingear, gloves, and boots for extreme weather. But employees are expected to have work boots and their own gear to stay warm, dry, or comfortable throughout the workday.
Good communication skills, sense of humor, and flexibility.
See our website Kretschmann Farm for more about the farm and an application.  Email mariakretschmann@gmail.com  or don@kretschmannfarm.com
Or call with further questions: 585-749-8485  or 724-452-7189
The post Organic Farm Operations Manager in Pennsylvania appeared first on Beginning Farmers.
To stay up to date with the latest in the livestock farming industry to may check out our livestock farming latest news. On the other hand in case you are new to raising livestock and would like to begin professional livestock rearing now download a copy of our Profitable Livestock ebook.
When animals are kept in the pasture-based system they are let to graze freely and eat nutritious grass and other green plants that are easily digested by their bodies. The livestock welfare is greatly increased when they graze on green pasture.
Sustainable livestock farming also helps in minimizing damage to the environment and the produces such as beef, eggs and milk is more nutritious and taste better then food from factory farms.
Animal Health Benefits:
Livestock that are kept in limited factory farms have less quality life than those raised on pasture. Animals when raised on pasture can move around and live a natural life where else in factory facilities the livestock are all crowded in confined facilities. These facilities don't have sunshine or fresh air allowing bacteria to develope and affect the livestock. This then causes the livestock being provided with antibiotics which is not great for the livestock.
Since a whole lot of animals eat grass, grazing them on pasture has a number of benefits. Some of the benefits would be the animals are able to produce saliva which is great for neutralizing acids that is in their digestive system. Seeing that grain fed livestock produce less saliva they generally suffer from dehydration, intestine harm and even death.
Human Being Health Benefits:
Livestock farmed on pasture produce more nutritious eggs, beef, milk which is ideal for consumers than livestock raised on grains. Adding to that, pasture raised foods have a healthier balance of omega-3 and omega-6 fats then your conventional foods. Their supplement levels are greater as well.
It's no doubt that sustainable livestock farming is the way to go if you would like to be a successful livestock farmer. The livestock are raised in a healthy way and the produce is healthy for us humans.