Source: http://www.beginningfarmers.org/26306-2/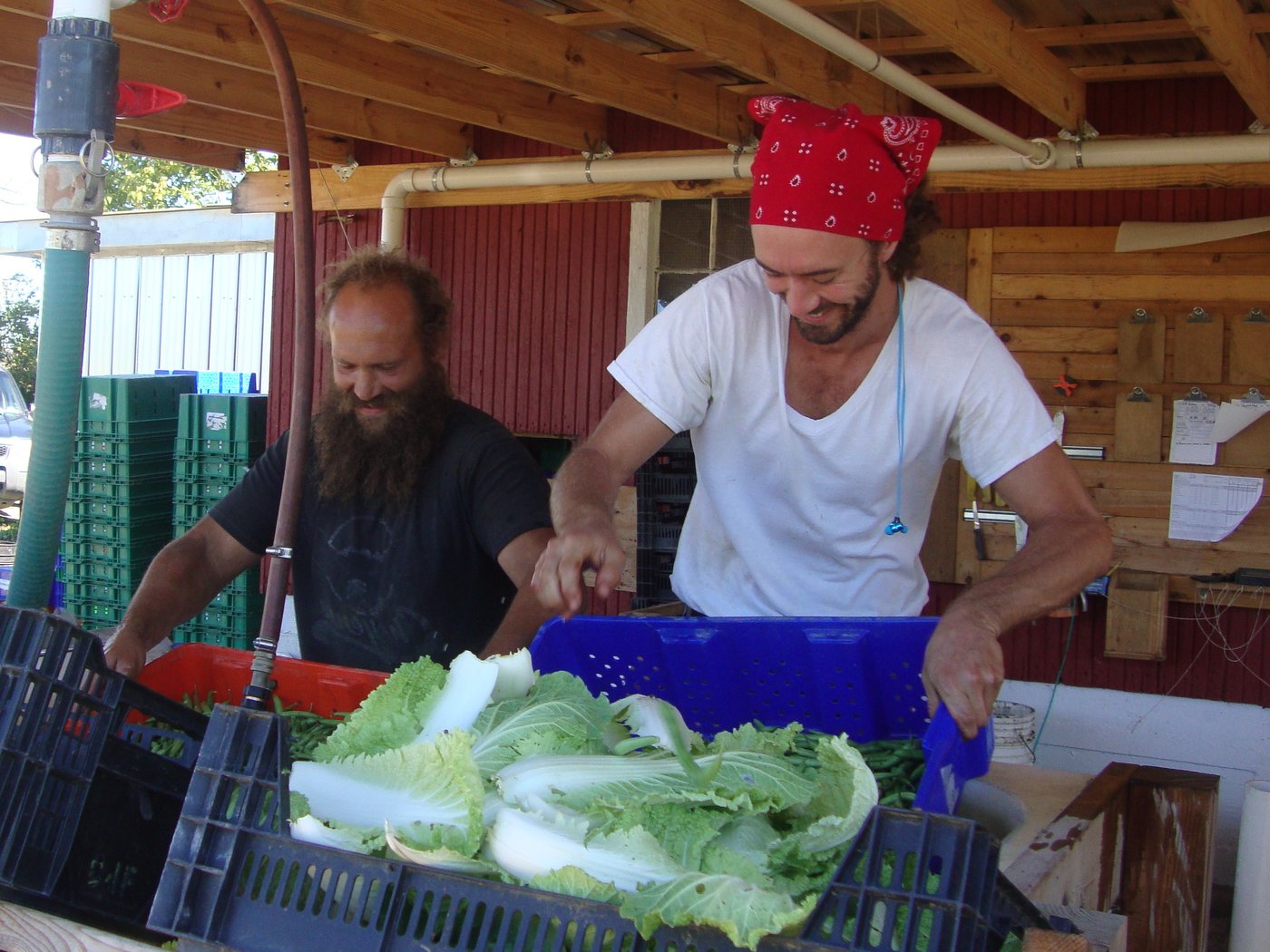 2017 Internships available at Patchwork Gardens in Dayton, OH.
Patchwork Gardens is happy to offer internship opportunities for those interested in immersing themselves in the work and lifestyle of chemical-free farming. We prefer candidates who are able to work full time (40-60 hours/week) and willing to stay with us for the length of the growing season (mid-April – November). We work also in the Winter months and we welcome applicants to contact us at any time during the year. The right person could have the opportunity to become a long-term partner in the farm. We are a young and fun group, learning fast and making progress in our first eight years of growing. We are fast-expanding in the Dayton area and we seek applicants whose energy will help us grow our business.
Major duties could include:
Starting plants from seed and transplanting seedlings into the garden
Preparation and maintenance of garden including tilling, broadforking, spreading manure, watering, weeding and mulching
Harvesting, cleaning, packing, and delivering produce for our CSA and wholesale customers.
Sharing in responsibility of feeding, watering, and other care of livestock (pigs, sheep)
Providing assistance with construction projects and maintenance of farm infrastructure
Desired Qualifications
Knowledge of and experience with growing vegetables without added chemicals
Strong work ethic and desire to learn
Self-motivated and willing to take initiative
Attention to detail and efficiency
Creativity and love for a sustainable lifestyle
Compensation
Meals including fresh produce from the farm, grass-fed beef and pork, pastured chickens, and raw-milk, all raised responsibly and locally by friends
Housing in the renovated loft of our reconstructed 100+ year old barn is available but not required
Weekly stipend increasing with length of stay and performance
To begin the application process, please fill out the Patchwork Gardens Internship Application which is located on the "Get Involved" page of our website. We'll get in touch with you once we've received this information.
Patchwork Gardens is a chemical-free farm located in Dayton, Ohio. Every spring, we plant a large vegetable garden: 11 acres in the widest variety we can manage. We try to cover all the garden favorites: from salad greens in spring, to summer-time tomatoes, autumn's root crops and everything in between.  It is our goal to spread good food and good farming practices within our community. The farm is in its eighth year now.  We grow our food without the use of any chemical fertilizers, pesticides, or herbicides. Our approach to agriculture favors hard work (diligent cultivation) and the culture of a healthy soil biology.
Contact Info
Address: 9057 W. 3rd St, Dayton, OH 45417
Phone: 937-835-5807
Website: www.patchworkgardens.net
The post Patchwork Gardens Internships in Ohio appeared first on Beginning Farmers.
To stay up to date with the latest information in the livestock farming industry to can check out our livestock farming latest news. On the other hand if you're new to raising livestock and desire to start professional livestock farming today download a copy of our Profitable Livestock ebook.
When livestock is kept in the pasture-based system they are allowed to graze openly and eat nutritious green grass and other plants that are easily digested by their bodies. The animals welfare is greatly increased when they graze on green pasture.
Sustainable livestock farming also helps in reducing damage to the environment and the produces such as meat, eggs and milk is more nutritious and taste better than food from factory farms.
Livestock Health Benefits:
Livestock that are kept in restricted factory farms have less quality life compared to those raised on pasture. Animals when raised on gree pasture can move around and live an organic life where else in factory facilities the animals are all crowded in confined facilities. These facilities have no sunlight or fresh air allowing bacteria to develope and affect the animals. This then causes the animals being provided with antibiotics which is not great for the livestock.
Since a lot of animals eat grass, grazing them on pasture has a number of benefits. Some of the benefits will be the animals are able to produce drool which is good for neutralizing acids that is in their digestive system. Since grain fed livestock produce less saliva they generally suffer from dehydration, intestine damage and even death.
Human Health Benefits:
Livestock raised on pasture produce more nutritious eggs, beef, milk which is good for consumers than livestock raised on grains. Adding to that, pasture raised foods have a much healthier balance of omega-3 and omega-6 fats then your conventional foods. Their nutritional levels are greater as well.
It's no doubt that sustainable livestock farming is the way to go if you wish to be a successful livestock farmer. The livestock are raised in a healthy way and the produce is healthy for us human beings.