Source: http://www.beginningfarmers.org/26315-2/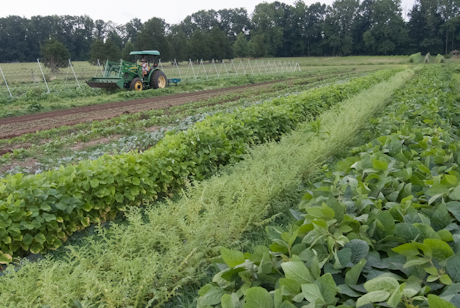 Bodhitree Farm in New Jersey is hiring a Farm Manager and Field Crew for the 2017 season
Bodhitree Farm, located in Central South New Jersey, is a family-owned boutique farm. We are passionate about growingspirited vegetables. We specialize in ethnic and heirloom vegetables and cater to NYC farm-to-table restaurants and Greenmarket shoppers. We are looking for a farm manager and crew members to join our team and help us run our fast paced 50 acre farm. All positions are full-time, from March to November.
Manager:
Looking for a qualified candidate that is passionate about learning and experimenting with various farming techniques and who can take ownership of the success and failures that happen in a growing season. The manager position will help with farm operations and managing the field crew. Managers will work alongside field interns and rotate tasks frequently based on need and will be engaged in planning and executing the farm's cultivation schedule from seeding and land management, to irrigation and harvesting. Minimum one year experience operating tractors with attachments.
Field Crew:
We are looking for field crew members who can help ensure a prosperous season by keeping day to day operations running smoothly. This is demanding and dynamic work that can range from seeding and harvesting to construction and clean up in all weather conditions. You will work independently and in teams to complete day-to-day farm tasks, and simultaneously learn the skills necessary to perform more important roles on the farm. You will also be responsible for assisting with the farm stands at the NYC Greenmarket. Ability to bend and lift repeatedly throughout the day is required.
Pay commensurate upon experience
Housing options available upon request
Please contact: bodhitreezest@gmail.com
Welcome to Bodhitree Farm, named after the sacred tree under which The Buddha reached enlightenment. Our newly acquired farm spans 65 acres of preserved farmland located in Pemberton Township in the New Jersey Pinelands, where more than 100 different varieties of unique vegetables (most of them heirlooms) and herbs thrive.
All of our crops are chemical spray-free, treated in organic methods only as a last resort, and spreading our own compost as fertilizer. Even though this means that every year, half of our harvest is lost, it doesn't go to waste. We throw it in a massive compost pile that will, in turn, fertilize the fields next season.
True to our name, we believe that vegetables grown with positive energy and a wonderful spirit can bring a kind of enlightenment to those who enjoy them. So come visit us and our beautiful veggies at the various greenmarkets in and around Manhattan.
The post Bodhitree Farm in New Jersey is Hiring appeared first on Beginning Farmers.
To stay updated with the latest information in the livestock farming industry to can visit our raising livestock latest news. On the other hand if you are starting raising livestock and desire to start professional livestock farming today get a copy of our Profitable Livestock ebook.
When animals are raised in the pasture-based system they are let to graze freely and eat nutritious grass and other plants that are easily digested by their bodies. The livestock welfare is greatly increased when they graze on pasture.
Sustainable livestock raising also helps in reducing damage to the environment plus the produces such as pork, eggs and milk is more nutritious and taste better then food from factory farms.
Animal Health Benefits:
Livestock that are raised in limited factory farms have less quality life compared to those raised on pasture. Animals when raised on gree pasture can move around and live a natural life where else in factory farms the livestock are all crowded in confined facilities. These facilities don't have sunshine or fresh air allowing bacteria to grow and affect the livestock. This then leads to the animals being provided with antibiotics which is not best for the livestock.
Since a lot of animals eat grass, grazing them on pasture has a lot of benefits. Some of the benefits are the animals are able to produce drool which is good for neutralizing acids that is in their digestive tract. As grain fed livestock produce less saliva they often suffer from dehydration, intestine harm and even death.
Human Health Benefits:
Livestock farmed on pasture produce more nutritious eggs, beef, milk which is good for consumers then livestock raised on grains. Adding to that, pasture raised foods have a healthier balance of omega-3 and omega-6 fats then your conventional foods. Their supplement levels are higher as well.
It's no doubt that sustainable livestock farming is the way to go if you need to be a successful livestock farmer. The livestock are reared in a healthy way and the produce is healthy for us humans.