Source: http://www.beginningfarmers.org/26344-2/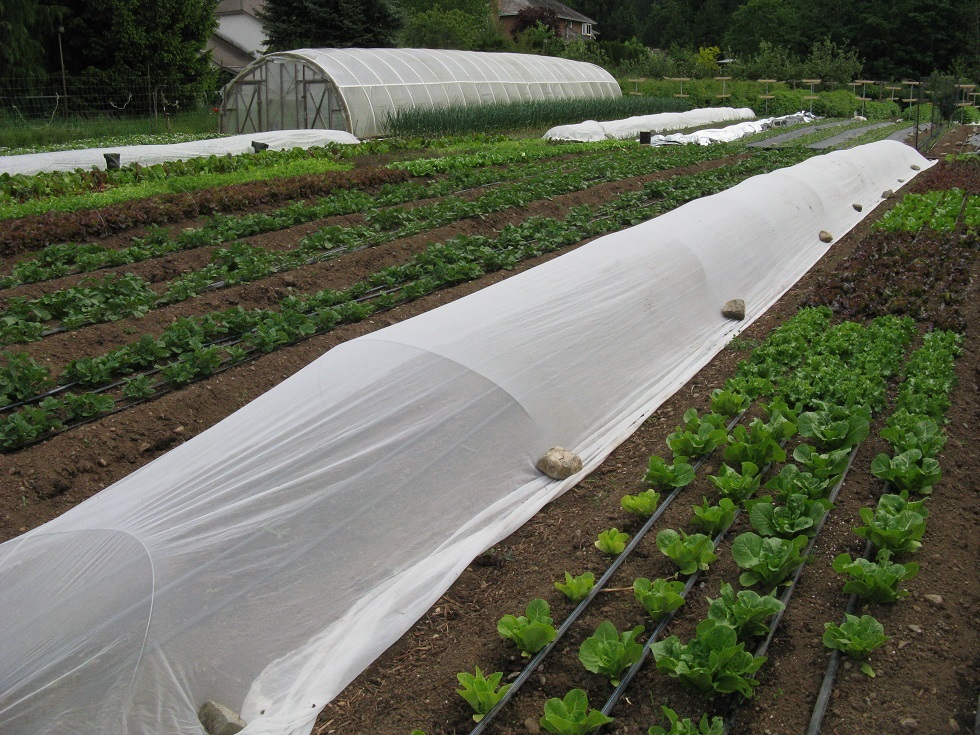 Cultivating More Local Farmers – Haliburton Farm Launches its EcoFarm School
Haliburton Community Organic Farm will launch an EcoFarm School for adults on March 24 2017.  It's a unique learning program that includes organic farming, ecological restoration and holistic nutrition to prepare a new generation of farmers for local farming careers.  An EcoFarm School Open House will be held Saturday 18th March from noon to 2pm at the Farm, 741 Haliburton Road, Victoria.
People usually think that high land costs are what keeps local farmers off the land. But there is another challenge – the shortage of farmers. In Saanich, only 4 people in a thousand actively farm. Plus, farmers are aging – in Saanich most are over 55 and only 4% are under 35. Local food production is at risk, and imported food makes up almost all of what we eat on Vancouver Island.
There are local food policies in the works, as well as community gardens, courses, and workshops for gardeners. But there are desperately few opportunities for people wanting to learn how to farm as a business, and fewer still providing sustainable farming skills that integrate biodiversity, organics and nutrition.
About Haliburton Farm 
Haliburton Community Organic Farm is an educational resource, well-embedded in Vancouver Island's local farming culture, and a proud winner of the 2016 EcoStar Award for Food Security. The Farm is owned by the District of Saanich and managed by the non-profit Haliburton Community Organic Farm Society. For more than 10 years, this "incubator" farm has provided mentorship and community to farmers learning to earn a living through certified organic farming and ecological stewardship. For more information, please visit:
http://haliburtonfarm.org.
About the EcoFarm School
The EcoFarm School offers an extraordinary combination of expertise in certified organic farming methods, ecosystem restoration and biodiversity, and holistic nutrition. The curriculum is tailored to adult learners wishing to learn organic farming within a place-based, ecological context. Coursework includes a unique mix of classroom instruction and hands-on farming, ecosystem and food handling practices. Special emphasis will be placed on Indigenous food systems and the role of native species in a certified organic farming environment.
The EcoFarm School program is offered through generous support from Vancity and the Victoria Foundation. Registration is limited to 10 students for 2017. For more information and fees, please visit:
http://haliburtonfarm.org/education/haliburton-ecofarm-school/.
Contact
To learn more about the EcoFarm School, or to register, please contact
EcoFarm School Coordinator
741 Haliburton Road, Victoria, BC
Office: (250) 886-1648
ecofarmschool@gmail.com
The post EcoFarm School in Victoria British Columbia appeared first on Beginning Farmers.
To stay updated with the latest information in the raising livestock industry to may visit our livestock farming latest news. On the other hand if you are starting livestock farming and would like to begin professional livestock rearing now get a copy of our Profitable Livestock ebook.
When livestock is raised in the pasture-based system they are allowed to graze openly and eat nutritious green grass and other plants that are easily digested by their bodies. The livestock welfare is greatly increased when they graze on pasture.
Sustainable livestock farming also helps in minimizing damage to the environment and the produces such as meat, eggs and milk is much more nutritious and taste better than food from factory farms.
Livestock Health Benefits:
Livestock that are raised in confined factory farms have less quality life than those raised on pasture. Animals when raised on pasture can move around and live a natural life where else in factory facilities the animals are all crowded in confined facilities. These facilities do not have sunlight or fresh air allowing bacteria to grow and affect the animals. This then contributes to the livestock being given antibiotics which is not good for the livestock.
Since a whole lot of livestock eat grass, grazing them on pasture has a lot of benefits. Some of the benefits are the animals are able to produce secretion which is great for neutralizing acids that is in their digestive tract. Seeing that grain fed livestock produce less saliva they frequently suffer from dehydration, intestine harm and even death.
Human Being Health Benefits:
Livestock raised on pasture produce more nutritious eggs, meat, milk which is good for consumers then livestock raised on grains. Adding to that, pasture raised foods have a more healthy balance of omega-3 and omega-6 fats then your conventional foods. Their vitamin levels are greater as well.
It's no doubt that sustainable livestock farming is the way to go if you would like to be a successful livestock farmer. The livestock are reared in a healthy way and the produce is good for us human beings.