Source: http://www.beginningfarmers.org/tilth-sustainability-internship-program-washington/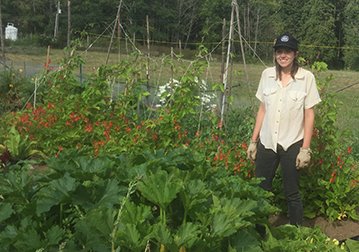 South Whidbey Tilth Sustainability Internship Program for 2017 in Washington State
South Whidbey Tilth Association (Tilth) (www.southwhidbeytilth.org) is offering an internship to facilitate small-scale organic farming activities, community education and to manage the South Whidbey Tilth Farmers' Market. The intern is based on the Tilth campus at 2812 Thompson Road off State Route 525 on South Whidbey Island. As time and permits, this program will also support the work of other food security projects including Grow Whidbey (community food production and garden-based education): the Good Cheer Food Bank Garden and the South Whidbey School District Farm and Garden Program.
Goals of this project include:
Increase public awareness of the South Whidbey Tilth Farmers' Market and attract more vendors and customers to the market.
Build programs on South Whidbey Tilth's 11.32 acres as a destination training center on sustainable food growing, marketing and land resource conservation practices.
Create a network of cooperation with other sustainable agriculture projects through the project leaders and interns/apprentices on Whidbey Island.
South Whidbey Tilth Sustainability Internship Training includes:
Leadership skills such as project management, volunteer coordination, outreach and publicity, working with varied age groups, and teaching and public speaking.
Ongoing mentoring and regular check-ins to support the professional and personal growth and development of the intern.
Classes and workshops through South Whidbey Tilth and partnering organizations to learn sustainable agriculture practices such as soil cultivation, growing starts, planting, seeding, irrigation, harvesting, produce management, hoop house cultivation, crop rotation, composting and vermiculture, record keeping, limited and supervised use of power tools and small machinery.
For the complete South Whidbey Tilth Sustainability Internship description, go to www.southwhidbeytitlh.org
Application deadline is Friday, February 17.
To apply for the South Whidbey Tilth Sustainability Internship email a resumé and statement addressing how you meet the minimum and preferred qualifications to Prescott, president, president@southwhidbeytilth.org. Or mail to South Whidbey Tilth, PO Box 252, Langley, WA 98260.
The post Tilth Sustainability Internship Program in Washington appeared first on Beginning Farmers.
To be updated with the latest in the raising livestock industry to can check out our raising livestock latest news. On the other hand in case you are beginning livestock farming and would like to begin professional livestock rearing today get a copy of our Profitable Livestock ebook.
When animals are raised in the pasture-based system they are allowed to graze openly and eat nutritious grass and other plants that are easily digested by their bodies. The animals welfare is greatly increased when they graze on pasture.
Sustainable livestock farming also helps in minimizing damage to the environment and the produces such as pork, eggs and milk is far more nutritious and taste better then food from factory farms.
Animal Health Benefits:
Livestock that are kept in limited factory farms have less quality life compared to those raised on pasture. Livestock when raised on gree pasture can move around and live an all natural life where else in factory facilities the animals are all crowded in confined facilities. These facilities don't have sunlight or fresh air allowing bacteria to develope and affect the animals. This then causes the livestock being given antibiotics which is not best for the livestock.
Since a great deal of animals eat grass, grazing them on pasture has a number of benefits. Some of the benefits would be the animals are able to produce saliva which is good for neutralizing acids that is in their digestive system. As grain fed livestock produce less saliva they often suffer from dehydration, intestine harm and even death.
Human Being Health Benefits:
Livestock farmed on pasture produce more nutritious eggs, meat, milk which is ideal for consumers then livestock raised on grains. Adding to that, pasture raised foods have a more healthy balance of omega-3 and omega-6 fats then your conventional foods. Their supplement levels are greater as well.
It's no uncertainty that sustainable livestock farming is the way to go if you want to be a successful livestock farmer. The livestock are raised in a healthy way and the produce is good for us humans.