Source: http://www.beginningfarmers.org/kid-care-apprenticeships-farmhandherd-manager-job/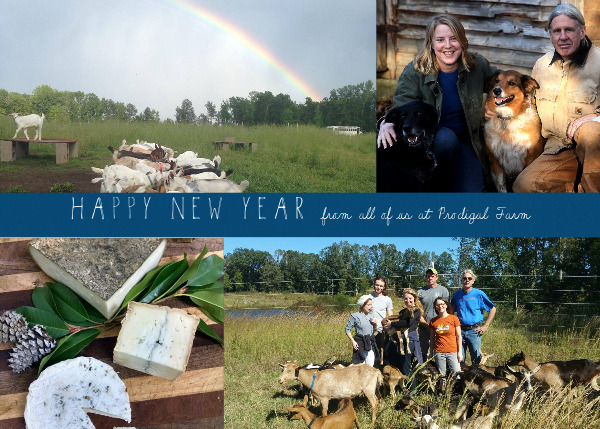 Farmhand or Herd Manager position + 2 Kid Care Apprenticeships at Prodigal Farm in Rougemont, NC for 2017
Prodigal Farm is a rapidly growing farmstead goat cheese dairy in Durham County, NC, about 25 minutes' drive from Durham, which has a vibrant food scene and great sense of community. Currently, we have 95 does on the farm, due to start kidding in early March; 3 breeding bucks; and about 100 yearlings. Last year, we had 185 kids born in 30 days, and we expect more kids this year, born over the course of 5-6 weeks. We are pasture-based and are unique in rotationally grazing our dairy goats through both pasture and woods on our 94-acre farm. Though our operation is only 6 years old, our cheeses can now be found at some of the top restaurants and retailers from NYC to San Francisco. Our herd is Animal Welfare Approved. We also just started buying cow's milk from a like-minded nearby farm, so we can make more cheese. We sell at area farmers' markets; at very popular open farm days; through a local wholesale delivery route; and through wholesale shipping.
We have three specialized work groups on Prodigal Farm: kid care (short term every year, handling delivery and care of kids through weaning off of milk); farm side (handling milking and care of all goats after weaning); and cheese room (handling cheesemaking). Though the three groups work largely independent of each other, we try to get folks together for a farm lunch once a week.
We have two full-time kid care positions, which will run from approximately March 7 to mid-July, with a likelihood of further opportunities to work with us after that. We also have an opening for a full-time hourly farmhand, or a herd manager, depending on qualifications. We'd love to find someone who is or could become that herd manager, given more training and experience with us.  For more detailed descriptions, read on:
KID CARE APPRENTICESHIP (2 positions available):
We'll need help birthing, feeding and caring for this spring's crop of goat kids. Hours are long during late March and early April, but it's very satisfying work, with meaningful responsibility. You will need to be good with people, because you'll be working with dozens of community volunteers who help with feeding. We provide room, board & $200/week stipend for 40 hours/week of work; work above that is paid extra at $11/hour. ***Job starts approximately the second week of March*** and continues until most babies are weaned, approximately July 15; good potential for longer-term work with us.
We have a structured training program for this position, and you get great hands-on experience — in addition to the general work above, there is vaccinating, disbudding, mucking, record-keeping, volunteer coordination, castration, hoof-trimming, and more hands-on skills that you will master. We will also train you in driving our various tractors and in the use of the front end loader and manure spreader.
In addition to the stipend, Prodigal Farm provides room & board in our home; each kid care apprentice gets a furnished private room. We live in a double-wide on the farm. The farmhands' bed/bath areas (you will have your own bedroom and a shared bathroom) are at one end of the house and our bed/bath is at the other end. The common living/kitchen/laundry is shared.
PRODIGAL FARM HERD MANAGER: We probably won't find an applicant who has all of the skills "off the rack," and we expect we'll need to plan for an initial training phase. You will need to have meaningful prior experience with dairy animals. You will handle 5 milking shifts per week. You will also be responsible for training, supervising and task management for other farmhands. You will ensure that the following tasks are completed as scheduled to high standards: milk testing, fecal testing, parasite assessment, herd health (with guidance from us and consultation with our veterinarians), coordinate with researchers at area universities on joint research projects, ensure sanitation in the milking parlor and herd housing; ensure that the feed/forage/supplement needs of the herd are met; work with us and farmhands to on many major infrastructure projects (installing permanent fencing, building structures, etc.); ensuring that forage needs are met; planting/managing forage; and "managing up" — communicating with us to ensure that we know what you need to successfully perform your responsibilities. There is significant personal and economic growth potential in this position, given our major planned expansion. We are looking for a long term hire. You'll probably start hourly for the first few months, until you're in the groove, then become salaried.
PRODIGAL FARM FARMHAND – 5 milking shifts per week (we have an inline milking system), portable fencing, mucking, herd care (vaccinations, hoof care, etc.), assisting with the tasks identified for the Herd Manager position, above. We are looking for a commitment through Thanksgiving at a minimum, but ideally a long term hire. $12-13/hour, depending on experience, + overtime. We provide 2 consecutive days off per week. There is typically some overtime during our busy season, March-July. Farmhand position pays $12-13/hour, plus overtime. Herd manager position is salaried depending on experience and skills, with 2 weeks' paid vacation. We do not provide housing for the farmhand or herd manager position, though we work to help you find local housing and can frequently have you stay with us until you are able to do so.
We are looking for folks with a sincere interest in a career in farming, and a true affection for animals. Dairy farming is hard work, and producing value-added products is equally demanding, both physically and intellectually. You will need to be physically fit, and able to lift 50 pounds repeatedly over the course of the day. We find that folks need some prior farm experience before working for us.
You'll need to be attentive to details of many kinds: is that goat acting differently today than it does usually? Was the electricity for the fence turned back on? Did you follow up on the goat who was limping yesterday? We expect you to have good follow-through in completing tasks, and to communicate with us to ensure that we take "next steps" as necessary based what's happened on your watch.
We have both morning shifts (starting a bit before 7 a.m.) and evening shifts (ending around 9:30), except in non-milking months, for all these positions. We try to balance those shifts so that everyone can have a life.
We're a 25-30 minute drive to Durham, NC, which is lots of fun, culturally and culinarily.
HOW TO APPLY for a PRODIGAL FARM APPRENTICESHIP or JOB:
Please email kat@prodigalfarm.com with:
1. which position you're applying for;
2. description of your past experience & relevant skills (a resume is preferred)
3. your phone # and address
4. date you can start, and
5. three work references (former or current supervisors).
The post Prodigal Farm Apprenticeships and Jobs in NC appeared first on Beginning Farmers.
To stay updated with the latest information in the livestock farming industry to can check out our raising livestock latest news. On the other hand if you are beginning raising livestock and would like to start professional livestock farming now download a copy of our Profitable Livestock ebook.
When animals are kept in the pasture-based system they are let to graze openly and eat nutritious grass and other green plants that are easily digested by their bodies. The livestock welfare is greatly increased when they graze on pasture.
Sustainable livestock raising also helps in lowering damage to the environment and the produces such as meat, eggs and milk is more nutritious and taste better then food from factory farms.
Livestock Health Benefits:
Livestock that are raised in confined factory farms have less quality life compared to those raised on pasture. Livestock when raised on pasture can move around and live an all natural life where else in factory facilities the animals are all crowded in confined facilities. These facilities do not have sunshine or fresh air allowing bacteria to grow and affect the animals. This then causes the livestock being given antibiotics which is not best for the livestock.
Since a whole lot of animals eat grass, grazing them on pasture has a number of benefits. Some of the benefits would be the livestock are able to produce drool which is great for neutralizing acids that is in their digestive system. As grain fed livestock produce less saliva they generally suffer from dehydration, intestine damage and even death.
Human Health Benefits:
Livestock farmed on pasture produce more nutritious eggs, beef, milk which is good for consumers than livestock raised on grains. Adding to that, pasture raised foods have a healthier balance of omega-3 and omega-6 fats then your conventional foods. Their vitamin levels are higher as well.
It's no doubt that sustainable livestock farming is the way to go if you wish to be a successful livestock farmer. The livestock are reared in a healthy way and the produce is healthy for us human beings.