Source: http://www.beginningfarmers.org/26374-2/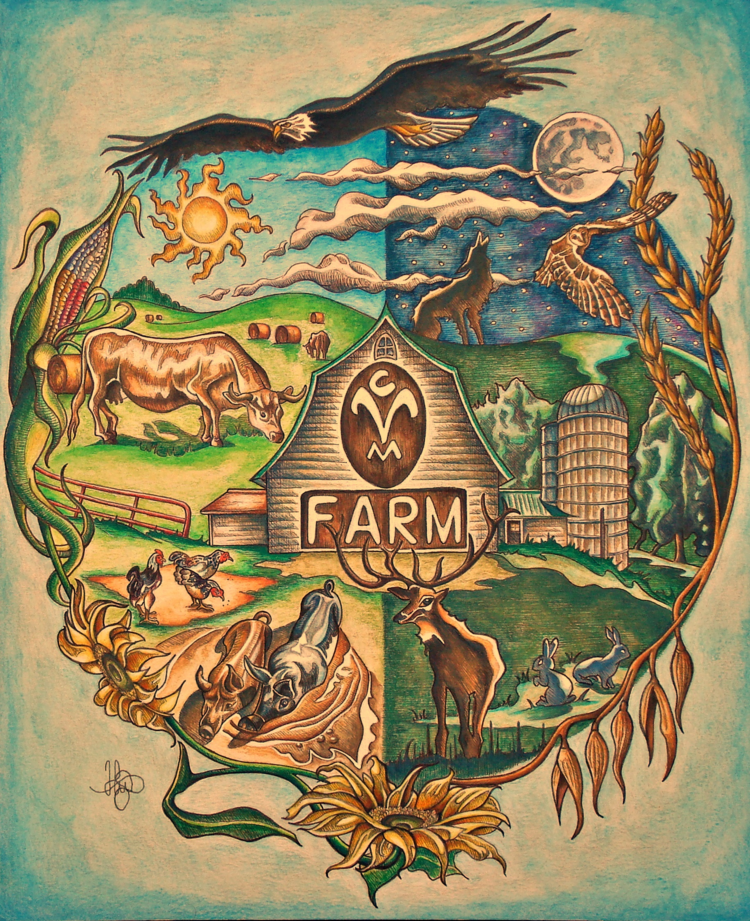 Biodynamic Farm Apprenticeship at Camphill Village Minnesota Farm
The North American Biodynamic Apprenticeship Program (NABDAP) helps aspiring farmers develop the skills and knowledge they need to build successful organic and biodynamic farms. The program combines:
24 months of structured on-farm training and mentoring
An independent, on-farm project
Classroom study in biodynamics
Apprentices benefit from a comprehensive training curriculum, carefully selected mentor farms, and access to networking, support, and educational resources. Upon completion of their training, apprentices are awarded a certificate in biodynamic farming from the Biodynamic Association.
Camphill Village Minnesota (CVM) is an eco-village of around 50 people in Central Minnesota. Our mission is to create and sustain a community where people with and without disabilities live, work and care for each other in fostering social, spiritual, cultural and agricultural renewal. CVM is part of a global movement of Camphill communities that focus on curative education and social therapy, approaches to working and living with people with special needs inspired out of anthroposophy and the teachings of Rudolf Steiner. The biodynamic approach to agriculture, also coming out of anthroposophy, provides the core tenets of our farming philosophy. In addition to biodynamic principles and practices, apprentices will also learn holistic management and permaculture approaches to agriculture and land stewardship. Apprentices will also have the opportunity to collaborate and work with other local farms, including our Amish neighbors.
Size of farm: 525 total acres. 120 acres in permanent pastures. 100 acres in a legume/grass-based rotation. Three acres in vegetables. Small orchard and herb garden. ~300 acres forest and wetlands.
Diversity of livestock and produce: 20 head grass-fed beef brood herd. 30 head grass-fed yearling and finisher herd. 3 head grass-fed dairy cow herd. Pasture-based four-sow farrowing herd. 60 hogs finished on farm per year on pasture during growing season. 70 laying hens. Broiler chickens done some years. Geese. Diverse vegetable garden grown in the field, and in greenhouses and high tunnel. Herbal ley hay making, wheat, barley, oats, peas, and buckwheat grown for grains. Honey bees. Sustainable forestry – harvesting for firewood and lumber. Permaculture silviculture conversion. Apples, cherries, raspberries, strawberries. Diverse herb garden for teas and skin care products.
Biodynamic Farm Apprenticeship details: Apprentices are housed in one of our community houses. They help with some household responsibilities and meal preparation. Apprentices are given the opportunity to focus on certain areas of our land work, or gain a broader experience a diversity of areas.
Housing: Provided by the community. Meals also.
Biodynamic Farm Apprenticeship Compensation: Base – $200 / month stipend, health insurance, room and board, vehicle access. Needs-based fiscal conversation upon acceptance, to make sure financial dependencies are being met during apprenticeship. Three weeks paid vacation per year. Time provided to be away for trainings and conferences. .
Biodynamic Farm Apprenticeship Work schedule: Winter – 9am-5pm, with one day off per week. Summer – 50 – 60 hours / week, with one day off per week. Hours are variable, due to schedule revolving around weather and harvest windows.
Mentor Farmers: Stephen Briggs, Karen Davis-Brown
Please e-mail a copy of your resume to briggs.alexander@gmail.com
The post Biodynamic Farm Apprenticeship in Minnesota appeared first on Beginning Farmers.
To stay up to date with the latest in the livestock farming industry to can visit our livestock farming latest news. On the other hand if you are beginning raising livestock and desire to begin professional livestock farming now get a copy of our Profitable Livestock ebook.
When animals are raised in the pasture-based system they are let to graze openly and eat nutritious grass and other plants that are easily digested by their bodies. The livestock welfare is greatly increased when they graze on pasture.
Sustainable livestock farming also helps in minimizing damage to the environment plus the produces such as pork, eggs and milk is far more nutritious and taste better then food from factory farms.
Animal Health Benefits:
Livestock that are raised in limited factory farms have less quality life compared to those raised on pasture. Livestock when raised on pasture can move around and live an all natural life where else in factory farms the animals are all crowded in confined facilities. These facilities don't have sun light or fresh air allowing bacteria to develope and affect the animals. This then leads to the livestock being given antibiotics which is not best for the livestock.
Since a whole lot of livestock eat grass, grazing them on pasture has a number of benefits. Some of the benefits would be the livestock are able to produce drool which is good for neutralizing acids that is in their gastrointestinal system. Since grain fed livestock produce less saliva they often suffer from dehydration, intestine harm and even death.
Human Being Health Benefits:
Livestock raised on pasture produce more nutritious eggs, beef, milk which is good for consumers than livestock raised on grains. Adding to that, pasture raised foods have a more healthy balance of omega-3 plus omega-6 fats then your conventional foods. Their supplement levels are higher as well.
It's no doubt that sustainable livestock farming is the way to go if you want to be a successful livestock farmer. The livestock are raised in a healthy way and the produce is good for us human beings.